Yay…summer's here! Lets hope that sunshine is here to stay. Time for patios and barbecues and fresh summer flavours. We've been trying to eat more grains and veggies. Unlike hubby, I can't eat a bag of celery and carrot sticks – its just too boring! This is the perfect salad that incorporates veggies and beans and with the addition of lemon zest, no one can call this boring.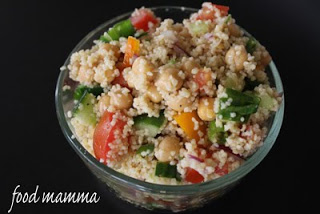 Couscous Salad
1 cup couscous, cooked
1 cucumber, cubed
1 tomato, diced
1 bell pepper, cubed
2 green onions
1/2 red onion, diced
zest of one lemon
juice of one lemon
cilantro
2 TB olive oil
salt
pepper
Just toss everything together and enjoy!