I'm so excited to be part of the Calgary Food Blogger Bake Sale taking place this weekend. Vincci, from "Ceci n'est pas un food blog" has rounded up local food bloggers to raise funds for Calgary Meals on Wheels. The bake sale is part of Market Collective's 2nd Anniversary. Come down and meet Calgary's own food bloggers and have a taste of their delicious offerings. Click here for more information and a list of the blogger participating.
It was hard trying to decide what to make for the bake sale. I finally settled on Nan Khatai – Indian wheatlet cookies. These are cookies from my childhood and is a treat that my 19 month old son now enjoys. My dad makes these regularly and its the perfect offering for when friends drop in. These crispy, crumbly cookies can be made like below or you can add some cardamom. Delicious on their own, they are even better when dipped in warm milk or chai.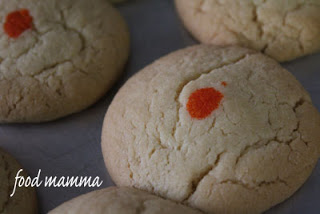 Nan Khatai
(makes 60 medium sized cookies)
1 lb margarine or butter
1 1/2 cups sugar
2 eggs
1 tsp vanilla
1 1/2 cups wheatlets (sooji)
4 cups flour
2 tsp baking powder
food coloring
Cream the margarine/butter and sugar. Once combined, add the eggs one at a time and then add the vanilla. Combine 3 cups of flour and baking powder. To the butter and sugar mix, gradually add in the flour and wheatlets, alternating between the two. Knead the dough and slowly add in the last cup of flour until the dough pulls away and is soft enough to roll into balls.
Bake at 350 degrees for 30 minutes or until golden brown. While still warm, place a drop of food coloring in the center of each cookie.