January 24 is Peanut Butter Day! This month, Lauren of Celiac Teen is hosting the monthly event, Go Ahead Honey It's Gluten-Free (GAHIGF). A theme is chosen each month and based on that theme, bloggers create gluten-free dishes. Lauren's theme is "Follow the Calendar", where you pick a food holiday and make a recipe celebrating it.
I just happened to have made peanut butter cookies the day I read Lauren's post and thought it would be the perfect thing to blog about. This is the easiest cookie recipe with no flour and no butter. Only 4 ingredients are needed and the cookies turn out delicious! You know something is good when my 2 year old asks for more.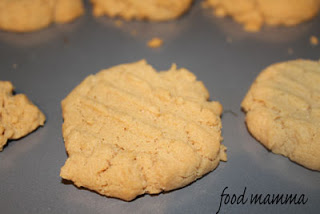 Gluten Free Peanut Butter Cookies
1 cup peanut butter
1 cup sugar
1 egg
1 tsp baking soda
Beat the peanut butter and sugar until the 2 ingredients are incorporated and fluffy. In a separate bowl, beat the egg with the baking soda. Add to the peanut butter mixture. Drop by spoonfuls onto an ungreased cookie sheet and bake at 350 degrees for 10 minutes. Makes about 30 small cookies.