It was nice to finally spend a day at home. Things have been crazy lately and there's been a lot of running around to do. We finally got to sit back and relax on Sunday. It was a hot day and it was nice to spend some time on our neglected deck. We were hungry and needed a snack so I fired up the side burner on the bbq to fry up some pakoras (bhajias).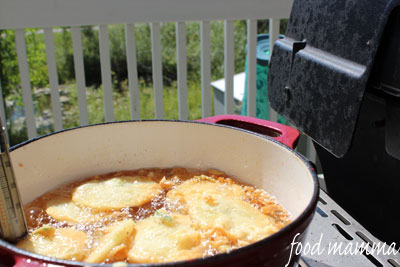 There are so many different versions of bhajias. These particular ones are referred to as nylon bhajias. They are thinly sliced potatoes, covered in a pancake like batter and fried until golden.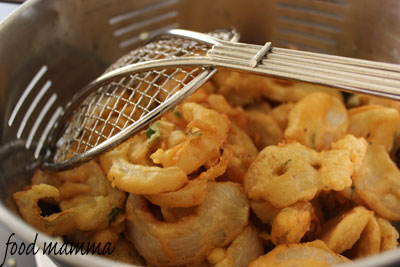 Q sat on his lawn chair and happily ate these as they came out of the fryer. He devoured them, and kept asking for more – always a good sign. To use up the batter, I added an onion that was thickly sliced. These are perfect served with tamarind chutney or ketchup.
Nylon Bhajia
2 large potatoes, thinly sliced
2 cups gram flour (chickpea flour)
1 cup water
1/4 tsp turmeric
1/2 tsp cumin powder
1/2 tsp salt
1 tsp baking powder
handful cilantro
Add water to the flour slowly until it is the consistency of pancake batter. Add the spices and cilantro and mix well. When the oil is ready for frying, add the baking powder to the batter and mix well. The batter should be a little foamy at this point. Add the potatoes to the batter until they are all coated. Fry until golden brown.