Last week, Q and his cousins went over to my aunt's house for apple picking, something that has become an annual event. The kids, aged 2 to 5, using ice cream pails as baskets, gathered as many little crab apples that they could. It didn't take long, but it was really cute, watching them scramble to see who could get to the apples first.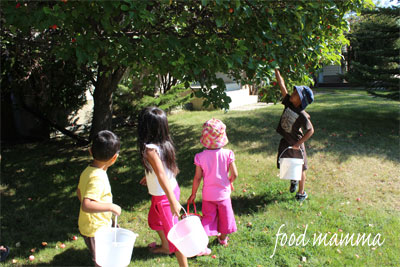 We came home with half a pail of apples. Since my oven was still not working (have I complained about that enough yet), a pie was not an option unless I wanted to use the little toaster oven. I had seen on twitter mentions of an apple chutney by Aarti Sequeira, of Aarti Party on Food Network (why do we not have this show yet in Canada?). I had to make some changes as I didn't have a few of the ingredients. The original recipe can be found here.
The resulting chutney was thick and sweet with just a hint of spice. It was a great savoury way to use the crab apples!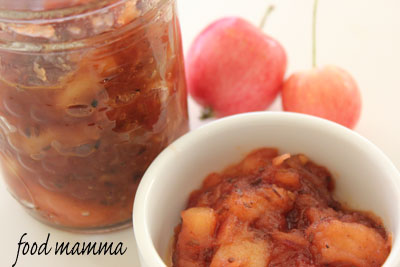 Crab Apple and Ginger Chutney
(adapted from Aarti Party, Food Network)
2 TB canola oil
1 tsp cumin seeds
1/2 yellow onion, thinly sliced
1/2 tsp chili powder
1 pound crab apples, cored and diced
1 6″ piece ginger, cut into matchsticks
1/2 cup sugar
2 TB white wine vinegar
salt
pepper
Warm the oil in a medium pot over medium-high heat. Add cumin seeds and cook for 30 seconds. Add the onions and cook until golden, 8 – 10 minutes. Add the chili powder and stir constantly for 30 seconds. Add the apples, ginger, sugar, vinegar, salt and pepper and stir. Cook until the sugar thickens and apples soften, about 15 minutes.