It had been one of those days and we were all feeling a little blah. Dinner needed to be something that would fill us and cheer us up at the same time. Pasta came to mind as being the perfect comfort in a bowl. Q was up for pasta, especially when he got to pick out what shape he wanted. After much deliberating at the supermarket, he finally settled on the rotini.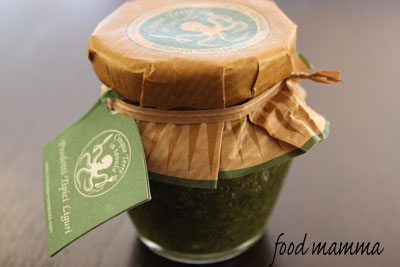 I had a jar of pesto that my sister had brought back for me from Cinque Terre, a little town on the Italian Riviera. I had been wanting to use it for a while and knew it would make the perfect sauce with some cream. The addition of shrimp and fish along with some veggies made it a quick weekday meal which we devoured. It was perfect with some french bread smothered in some boursin.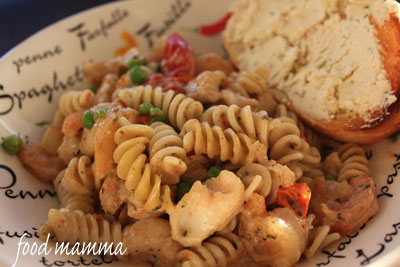 Seafood Pasta with Pesto Cream Sauce
3/4 cup whipping cream
3 tsp pesto
3 cloves garlic
1 cup cherry tomatoes, halved
1/2 cup frozen peas
1 pound shrimp
1 filet basa
olive oil
salt
pepper
Saute shrimp, fish, garlic and tomatoes for 5 minutes. Add cream and pesto and bring to a boil. Turn down the heat and let simmer until cream thickens. Season with salt and pepper. Toss with your favorite pasta.