Every good road trip has to have a big bag of something salty. Last year, when we drove to Kelowna, we took along a bag of popcorn twists. These twists, which just melt in your mouth, take me back to my childhood. I noticed a recipe on the bag for caramel popcorn twists and put it in the back of my mind to make one day. Well, one day was today. I made up a batch of these and they were so good! I didn't want them fully covered with caramel, so I halved the recipe. This way, each popcorn twist was only half covered and allowed you to get some sweet and some salty in every bite.
Want to try some? These will be at the Calgary Food Blogger Bake Sale being held this weekend at Casel Marche. I will also be baking up some whipped shortbread with almonds and chocolate as well as some almond roca shortbread. Hope to see you all there!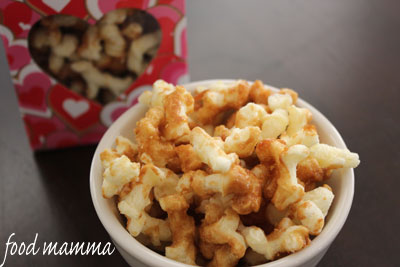 Caramel Popcorn Twists
Taken from the back of a bag of Old Dutch Popcorn TwistsPlace one 175 g bag of Old Dutch Popcorn Twists™ into a large roasting pan and pre-heat the oven to 250°F.
In your largest pot, combine 3/4 cup butter, 1 cup brown sugar and 1/2 cup corn syrup.
Bring the above ingredients to a rolling boil for about 2 minutes. Then stir in 1 tsp of baking soda. This will cause your caramel to foam. Allow the foam to cook slightly then remove from heat.
Pour the caramel over the popcorn twists and stir until completely mixed.Place in pre-heated oven and bake for 45 minutes, stirring your mixture every 10-15 minutes.
Remove from oven, pour on wax paper. Allow to cool slightly, break apart & enjoy!