We had a barbecue awhile back and it included a lot of meat! We really needed to balance out the meal with some carbs and veggies and this was the perfect dish for it – Potato and Green Bean Salad. It didn't take long to make and the crisp beans with the cooked potatoes provided great texture. I served this warm but it can easily be served cold, perfect for taking along to a potluck.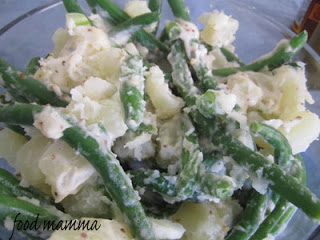 Potato and Green Bean Salad
2 large potatoes
1 pound green beans
2 green onions
1/2 cup mayonaise
2 TB grainy mustard
2 tsp red wine vinegar
Salt
Pepper
Boil the potatoes until fork tender. Blanch the green beans for one minute and immediately place in some ice water. Combine the mayo, mustard and vinegar and season well. Add the potatoes, green beans and onions until well coated with the dressing.