We celebrated hubby's birthday on Monday. It wasn't a big celebration, just a small family dinner with his mom's cooking and loved ones. Hubby loves ice cream cake from DQ so this year, I thought I would tackle it myself. The best part of the store bought cake is the middle layer with the fudge and the chocolate crunchies. Thanks to Pinterest, I found how to make them with only two ingredients! Although the original cake is all ice cream, I added a layer of chocolate cake, to make it even better.
The verdict? Hubby loved it! In fact, he made sure we took the leftovers home, always a good sign. The crunchy middle tasted just like the DQ version. The chocolate cake with the fudge, the crunchies, ice cream and whipping cream all together made the perfect bite.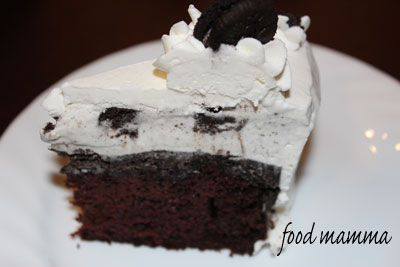 Cookies and Cream Ice Cream Cake
(Adapted from Our Best Bites and Brown Eyed Baker)
1 layer chocolate cake (I used this recipe)
3 TB fudge sauce
2 cups Cookies and Cream ice cream, softened


Chocolate crunchies:
2/3 package oreo cookies
3/4 to 1 bottle Magic Shell
Whipping Cream:
1 cup whipping cream
1 TB icing sugar

Line a springform pan with saran wrap. Place a layer of your favourite chocolate cake at the bottom. Spread a layer of fudge sauce on the cake.
Place the oreo cookies in a food processor and pulse until crushed – small bits not powder. To the crushed cookies, add 3/4 to 1 whole bottle of Magic Shell. Spread this over the fudge layer of the cake. Place in the freezer for a couple of minutes. Take the softened ice cream and create a layer on top of the crunchies. Let freeze overnight.
The next day, whip together the cream and the sugar. Ice the cake with the whipping cream. Top with mini Oreos or shaved chocolate. Place back in the freezer until ready to eat.