After Q and I spent a week in Texas, we met hubby in Vegas for a few days. It was fun for Q to see the lights and he was pretty great when it came time to outlet shopping. When driving the Strip, I noticed Serendipity 3 outside the Caesar's Hotel. I had always wanted to go to the original in NYC, but knowing I wasn't going there anytime soon, I had to go while in Vegas.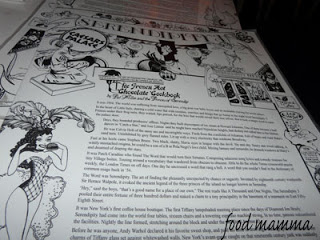 Made famous in the movie Serendipity, and then even more so by Oprah, I knew I had to try the Frrrozen Hot Chocolate. The place was packed and we had a bit of a wait but it was worth it.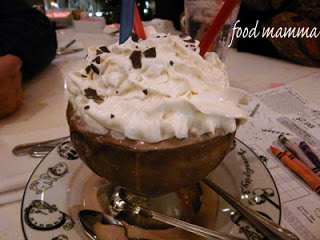 We ordered the drink for two and it was huge! The three of us shared but we could have easily shared with three more. It was a chocolatey blend of icy goodness topped with whipping cream. So good! As we sipped the yummy concoction, we got chunks of chocolate shavings while we sipped.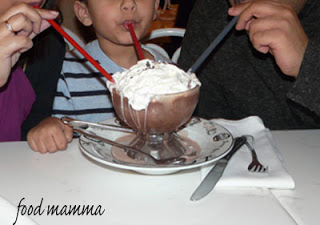 Would I go back for more? Most definitely!