We didn't have a really late night but we got to sleep in a little bit, until 8am! We started off the year with a tasty breakfast – fresh sourdough bread, toasted, slathered with Boursin and topped with a runny egg. Divine!
Being the new year, we were sure there would be visitors so I whipped up a batch of scones to go along with tea or coffee. I had blackberries in the fridge and some half and half that I needed to use up. A search on the internet came up with this recipe from Wendy from Around My Family Table. It was simple to make in the food processor. I actually did a couple of pulses with the blackberries so that the beautiful purple was distributed in the dough.
These were great on their own but even more so with a pat of butter.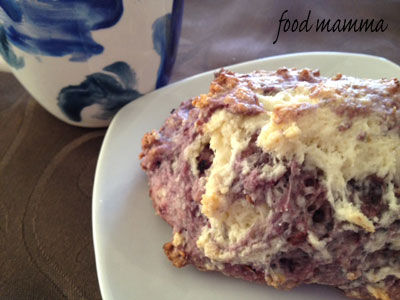 Blackberry Scones
Adapted from Around My Family Table
2 cups flour (plus more for kneading)
1/3 cup sugar
1 TB baking powder
5 TB cold butter
1/2 to 3/4 cup half and half
1 cup blackberries
Preheat oven to 400 degrees. In a food processor, combine flour, sugar and baking powder. Add the cold butter and pulse until crumbly. Add the half and half and pulse some more. Fold in the blackberries.
On a floured surface, knead the dough and form into a circle. Cut into 8 triangles and place on a cookie sheet. Brush the tops with half and half.
Bake for 15 to 20 minutes or until golden brown.