Today is Pi Day (3.14 = 3/14 = March 14). What better excuse than to celebrate with a pie! I've been wanting to try out a salted caramel chocolate pie for some time, just needed an occasion to do so.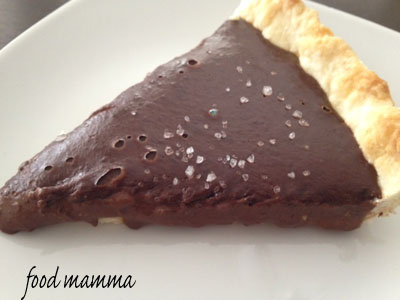 Just use your favourite crust recipe, fill with caramel and top with chocolate ganache. This recipe is incredibly rich but so delicious. Hubby, who is not much into the sweet stuff, loved this pie. I even saw him go back for seconds! I couldn't trust myself around this pie. To ensure that the two of us didn't inhale it ourselves, I gave most of it away.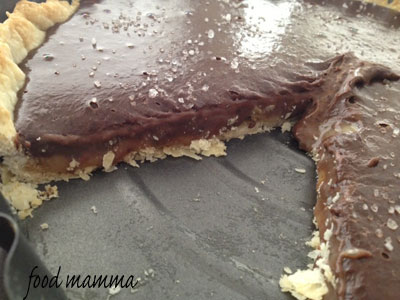 Q wanted to get in on the pie making action too. He really wanted an apple pie and made up these little pies. He rolled the dough, mixed the apples and even cut the stars for the top. He was very proud of his creation.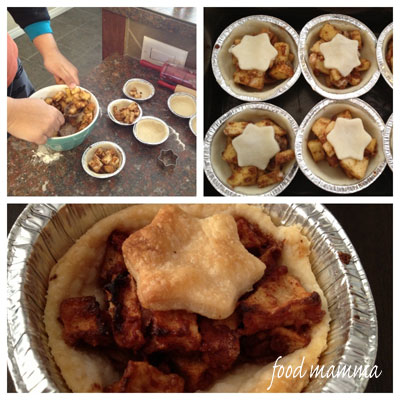 Salted Caramel Chocolate Pie
From Sprinkle Bakes
Caramel:
1 cup sugar
6 tbsp. unsalted butter, cubed
½ cup plus 2 tbsp. heavy cream at room temperature
¼ tsp. sea salt
Melt the sugar over medium-high heat in a large pot. Whisk the sugar as it melts, and cook until it becomes a deep amber color.
Add the butter and stir it in until melted.
Pour in the heavy cream (the mixture will foam) and whisk until the mixture becomes a smooth sauce. Note: If lumps form, keep stirring over gentle heat until they have melted.
Remove from heat, stir in salt and let cool slightly.
Pour the caramel into the tart shell. Tilt to cover the bottom evenly. Let cool in the refrigerator until caramel is firm.
Chocolate Ganache
3/4 cups semi-sweet chocolate chips
3/4 cups heavy cream
Place the chocolate in a medium bowl.
In a small saucepan, heat the heavy cream over medium-high heat until just boiling.
Pour the hot cream over the chocolate and gently whisk until the chocolate is melted and the mixture is smooth.
Allow to cool slightly before using.
Very gently pour the ganache over the caramel layer. The caramel may want to move around a little, so pour a little at a time. Place in refrigerator until firm.
Sprinkle with coarse sea salt before serving.