It was only recently that I tried Som Tam, thai green papaya salad. It was at White Elephant a couple of months ago and both hubby and I were pleasantly surprised at the flavours. I bought a green papaya to use as a tenderizer but then I recalled the fabulous salad so had to try and make it myself.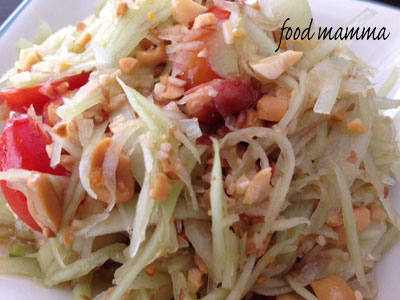 I used the recipe from Thai Table as a reference but had to make a few changes based on what I had in the house. Dried shrimp was replaced with shrimp paste and palm sugar was replaced with granulated sugar. To shred the papaya, you make cuts into the peeled papaya and then slice off the shreds. This is what I did the first time I made the salad. Subsequent times, I just grated it using my food processor. So much easier!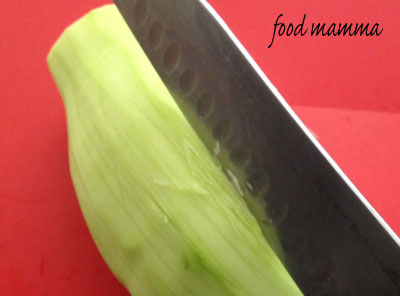 I've been eating this salad for the past few days. It's a great mix of salty from the peanuts, sweet from the sugar, sour from the lime and savoury from the fish sauce and shrimp paste. It's quite addictive!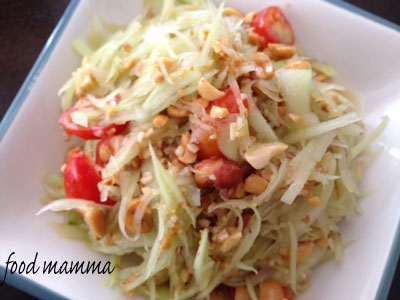 Som Tam – Green Papaya Salad
(Adapted from Thai Table)
5 Cherry Tomatoes
2 chili peppers or hot sauce
1/2 tsp shrimp paste
1 1/2 TB fish sauce
1 clove garlic
2 cups shredded green papaya
3/4 lime, juiced
1 1/2 TB sugar
2 TB toasted peanuts
Crush the peanuts using a mortar and pestle and keep aside. In the mortar, smash the clove of garlic. Add the tomatoes, chili peppers, shrimp paste, fish sauce, lime juice, sugar and peanuts and crush. Add the papaya and mix it well with the rest of the ingredients.