Having an energetic four year old means I need to ensure he has the proper breakfast to keep him going during the day. As much as I try and tempt him with eggs, his first choice is always cereal. I always try to look for cereal that is nutritious but will get him excited. With 40% of your daily-recommended intake of fibre in one bowl, I was happy to find that the new Fibre 1 Almond & Cluster Delight Cereal kept both him and his mamma happy.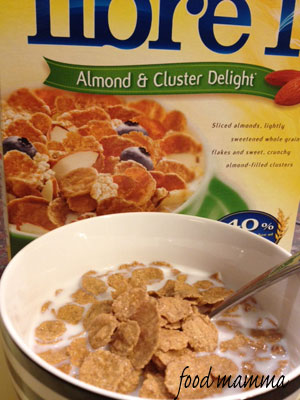 The sweet cereal was tasty and filling and the flakes had quite the crunch. My favourite were the almond-filled clusters and the slivered almonds – I am a bit of a nut freak. It was perfect with milk but also great to take on the go for a quick snack for Q…and me!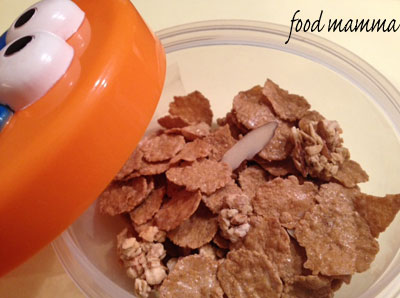 Want to try a box for yourself? Head on over to the Life Made Delicious Facebook page where, until June 25th, you can order a coupon for a free box. If you prefer, you can choose a coupon for one box of Honey Nut Cheerios Hearty Oat Crunch. The coupon will be redeemable for one day only, July 16th. While you're on their Facebook page, be sure to check out the other great products that they have launched such as Nature Valley, Fibre 1 bars, Golden Grahams OR Cinnamon Toast Crunch treats. The coupon for these tasty treat can be redeemed on July 23rd.
Disclosure – I am participating in the Fibre
1 Almond & Cluster Delight Cereal blogger campaign by Mom Central
Canada on behalf of General Mills. I received compensation as a thank
you for participating and for sharing my honest opinion. The opinions on
this blog are my own.