I'm so happy to have my good friend guest blog today! Durbanville Hills sent me some wine to review and Sarb was kind enough to do a wine review for me. Thanks Sarb!
When Food Mamma asked me to be a guest blogger and do a wine review, I was pretty excited. I mean who doesn't love an excuse to try something new, especially a new bottle or two of wine! The timing was great as well because we had friends coming over for a dinner and play date so I thought it would be a great excuse to ply them with wine and pick their brains about what they thought as well.
So before I start in on the night's festivities, let me introduce the wines. The producer of the wines we sampled was Durbanville Hills based out of South Africa. Provided for our sampling pleasure were a 2012 Sauvignon Blanc white wine and a 2010 Shiraz red wine.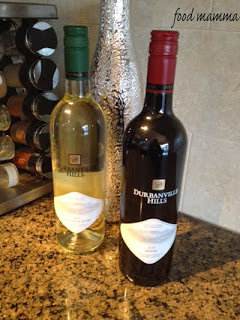 Admittedly neither I nor my guests are a sommelier, in fact my friend AG thought it might be pronounced somolian, but we did our best to give our impressions of both the Shiraz and Sauvignon Blanc. Out of the chute, I must admit that my palette is skewed toward red wines as I tend to prefer a stronger and full flavour. Luckily AG has a preference for white wine with its more subtle flavours and his wife, KG, just likes wine so we covered all the bases.
We started the night with appetizers from the New Tandoori King restaurant. Featured were their delicious potato samosas, fish pakoras, paneer pakoras and sinfully sweet gulab jamuns. In case our friend Dr. BK came by we had homemade salsa with gluten free corn chips to ensure we had something for her to snack on.
All three of us started out with the Shiraz to go along with the appetizers. KG and I both noted that it had a peppery smell that was very pleasant and AG was done with his first glass and appetizers and on to his second glass before he could give me his thoughts on its aroma. He really liked how it tasted as he loaded up chip after chip with salsa and sipped the Shiraz with it.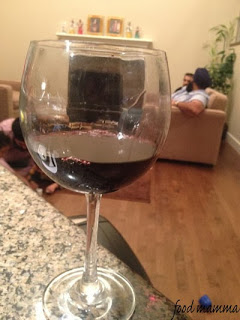 We all agreed that the spicy flavour of the Shiraz stood up extremely well to the intense flavours and heat from our appetizers. My friends AG and KG both said that the Shiraz was a smooth red wine with a clean and spicy flavour. AG said it tasted almost smoky and KG said it went down a little too easily because we had polished off most of the bottle very early into the evening.
The recommended pairing on the label was robust dishes of game, poultry and red meat but I think our spicy selection was a great compliment to the smoky, earthy and spicy flavour notes of this wine. One of the best features, from my perspective, was how smooth the wine tasted. Often, red wines can have an almost acidic or sour taste and this wine, while not sweet was refreshing and pleasing to the palette.
As we all settled on to the sofas, the three of cracked open the bottle of Sauvignon Blanc to sip while we got caught up. It was an easy sipping wine all on its own and could have benefitted from a little bit of time to chill but was still very fruity and silky.
The nose and flavours of the white were an extreme departure from the red wine. It was far more subtle and AG commented that it reminded him of the wines they had tried in Europe on their recent trip there. AG said that the flavour was the right balance of sweet and dry and that he was surprised that it was not a French wine. I told him that he was just trying to show off for the blog!
I have to say, the gulab jamuns definitely tasted that much more delicious accompanied by the Sauvignon Blanc but I am sure it would do well with a pasta dish or seafood as well. All in all the company was the star of the night but AG, KG and I definitely enjoyed the night a little bit more thanks to contributions from the wine.
If they are in your budget and you want to try a new red or white wine with some friends I would definitely recommend that you give the Durbanville Hills Sauvignon Blanc and Shiraz a try.