Today we celebrated Eid Al Adha, also known as the Festival of Sacrifice. It seemed appropriate to have lamb and a great excuse to try out a recipe I had been eying.
Most people who know of Vikram Vij know that the dish he seems to be most associated with is his lamb popsicles in a fenugreek cream curry. I had been meaning to make it for a while and luckily remembered this recipe the last time I was at the grocery store. I was unable to find a whole rack of lamb but was lucky to find some individual chops.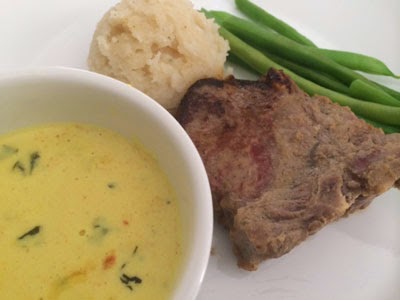 The recipe seemed easy and even with a couple of sides, dinner came together really quickly. The highlight of the meal was the vibrant yellow fenugreek sauce. It paired perfectly with the lamb chops and even worked with the mashed potatoes and green beans.
It was a really tasty meal and definitely a special one to celebrate Eid. I'm also very happy to have a jar left of the creamy sauce.
Vikram Vij's Lamb Popsicles in Fenugreek Cream Curry
From FoodNetwork.ca
Lamb:
¼ cup sweet white wine
¾ cup grainy yellow mustard
1 tsp salt
1 tsp ground black pepper
4 lb. French-cut racks of lamb, in chops
Curry Sauce:
4 cup whipping cream
1 Tbsp salt
1 tsp paprika
½ tsp ground cayenne pepper
1 Tbsp dried green fenugreek leaves
¼ cup lemon juice
¼ cup canola oil
3 Tbsp garlic, finely chopped
1 tsp turmeric
Lamb
Combine wine, mustard, salt and pepper in a large bowl. Add lamb and coat well with the marinade. Cover the bowl with plastic wrap and refrigerate for 2 to 4 hours.
Finish lamb: Preheat a stove-top cast iron grill or barbeque to high heat. Place lamb on the grill and cook for 2 to 3 minutes per side.
Curry Sauce
In a large bowl, combine cream, salt, paprika, cayenne, fenugreek leaves and lemon juice. Heat 3 to 4 Tbsp of the oil in a medium pot on medium heat and sauté garlic until golden. Stir in turmeric and cook for 1 minute. Stir in the cream mixture and cook on low to medium heat for about 5 minutes, or until it is gently boiling.
To serve: Serve popsicles piping hot off the grill. Place four to five lamb chops on each plate. Pour the cream curry over the meat or ladle it into a small bowl and use it as a dipping sauce for the popsicles.