Q was home sick for a few days last week. It seems like something nasty is definitely making its rounds. While most of his time involved naps and movies on the couch, we also managed to squeeze in some cookie making. I love chatting with Q while we are busy making something delicious. You can learn a lot from a six year old in the kitchen while they are distracted with stirring and measuring.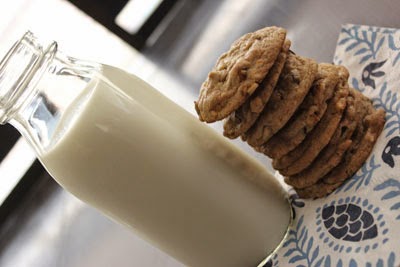 I had noticed a bag of hazelnuts sitting in the pantry just waiting for something tasty. I decided that these roasted would be perfect with some chocolate chips in cookie form. We decided a swirl of Nutella would be nice too.
We roasted the hazelnuts in a 350 degree oven just until we could smell the oils. I got a little distracted though, and almost burnt the lot! The nuts that we were using had skins on them so I dumped them into a tea towel and rolled them around until they were peeled. I chopped the nuts while Q measured out the sugar and flour. Once the batter was done, we took a big spoonful of Nutella and did a rough mix so that it was swirled through.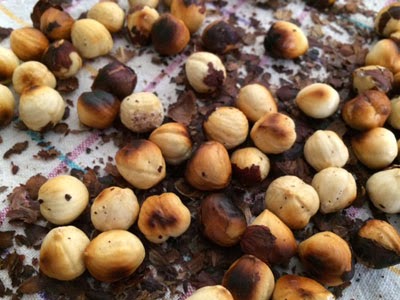 The cookies turned out amazing! The nuts and chocolate made them chunky but the cookies were soft and chewy. They were a great afternoon snack with a cold glass of milk. The toasted nuts added a great crunch and flavour. Even hubby, who normally stays away from the sweet stuff, enjoyed a few!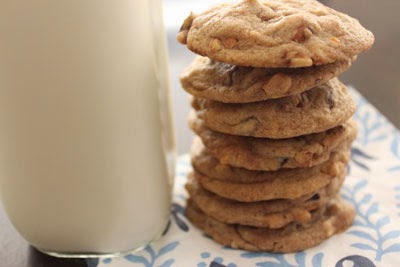 Hazelnut Nutella Cookies
1/2 cup butter
1/2 cup brown sugar
1/4 cup white sugar
1 egg
1 tsp vanilla
1 cup flour
1/2 tsp baking soda
1/4 tsp salt
1 cup chocolate chips
1 cup hazelnuts, roasted and chopped
1 TB Nutella, heaping
Cream the butter and the sugars. Add the egg and vanilla. In the center of the mixture, add the flour, baking soda and salt. Mix until combined. Add the chocolate chips and nuts and mix until incorporated. Roughly mix in the Nutella. Bake at 350 degrees for 12 minutes. Makes approximately 2 dozen.