I love chicken wings! I am always on the quest to find the best recipe to make at home without doing any frying. Mostly it's just tossing together things that I have in the fridge. I always try to use balance out the flavours, using something sweet, salty, and a touch of heat.
This combination was a winner! Perfect for watching the game, or a get together with friends.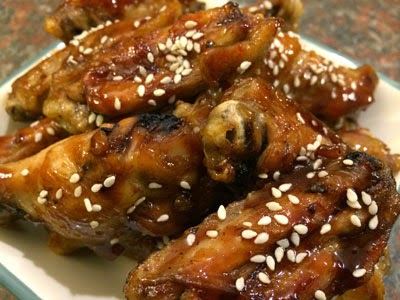 Sticky Chicken Wings
3 TB ketchup
3 TB soya sauce
3 TB balsamic vinegar
1 TB honey
2 cloves garlic
1 tsp sesame oil
1 tsp sriracha
1 lb wings
sesame seeds
Mix together the first seven ingredients. Once combined, toss in the wings and then place on a foil lined tray. Bake at 375 degrees for 50 to 60 minutes. Sprinkle with sesame seeds.