After seeing Kristy's post last month about mussels and Julie's picture on Instagram, I had a craving! Every time I would see mussels at the grocery store, I wanted to make them but never seemed to find the time. Seeing everyone's posts gave me the push I needed.
Green curry and mussels seemed like a good combination. I also knew I wanted a bit of a broth to eat with either fries or bread.
As usual, Q was a great helper in the kitchen. He helped wash and debeard the mussels and was in charge of getting rid of mussels with open shells. Once the mussels were cooked, he went through the bowl and made sure all the shells had opened up. He loved the responsibility!
The mussels were fantastic! The green curry made its away into the shells and infused the meat with flavour and we had lots of bread to sop up the tasty broth. The mussels were quick to make and would be perfect for any dinner party.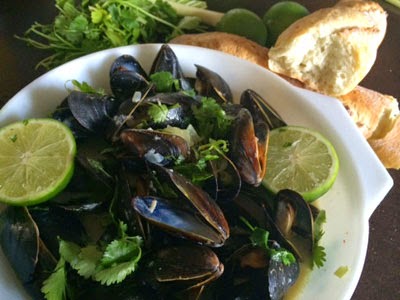 Green Curry Mussels
1 can coconut milk
1 TB green curry paste
1 shallot, chopped
1/2 stalk lemongrass, chopped
1/4 tsp sugar
2 pounds mussels, cleaned and debearded
oil
cilantro
lime
In a large pot, heat a small amount of oil. Add the shallots and lemongrass and cook for a minute. Add the coconut milk and curry paste and let it come to a boil. Add the mussels and cover the lid, allowing the mussels to steam for 3 minutes. Once all the shells have opened up, the mussels are ready to enjoy. Add the juice of one lime and sprinkle with cilantro.