It's my birthday! It's the perfect day to start celebrations for 5 years of Food Mamma. Q was in diapers when this blog was started. Now he is talking about starting a blog of his own. Time sure does fly!
Food Mamma has been a great outlet to share my love of food and family. Thanks for all your support and your feedback – it is always welcomed and appreciated!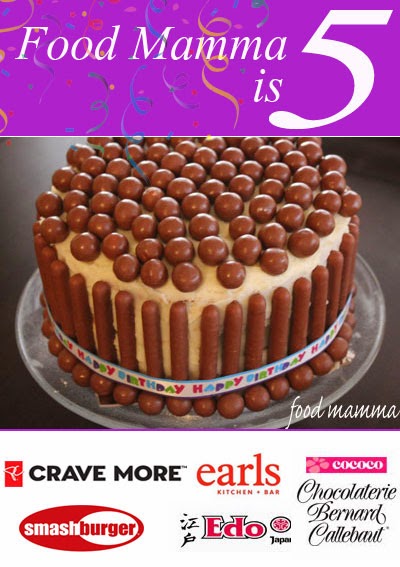 To help celebrate, I have teamed up with some awesome sponsors for some great giveaways! For the next two weeks, be sure to check back often for your chance to win some delicious prizes! To be sure you don't miss out on any chances to win, be sure to follow me on Twitter, Instagram, Facebook and Pinterest.
A huge THANK YOU to Cococo, Chocolaterie Bernard Callebaut, Earls Kitchen + Bar, Edo Japan, President's Choice and Smashburger for your generous prizes!
Let's start off with a giveaway. Leave a comment on my Facebook page letting me know how you celebrate birthdays. All comments posted until March 21st will be entered into a draw. Good luck!