Today is my mom's birthday. She is a special person, always doing what she can for all of us. She doesn't ask for anything. The least I could do was make her a cake.
This moist cake is warm from the cinnamon and packed with nuts
because that's what she loves. And since there's carrots, we can
convince ourselves that it's okay to eat because we are eating our
veggies.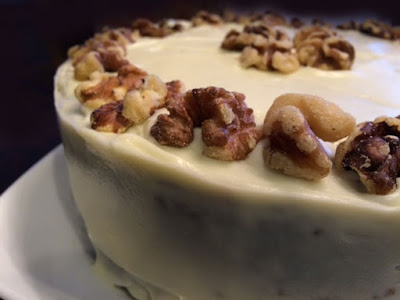 Carrot Cake
2 cups carrots, grated
1 cup oil
3 eggs
1 cup sugar
1 1/2 cups flour
1 1/2 tsp baking powder
1 1/2 tsp baking soda
1 tsp cinnamon
1/4 cup walnuts, chopped
1/4 cup almonds, chopped
In a blender, mix together the carrots, oil and eggs. Transfer to a bowl and add the dry ingredients. Carefully fold in the nuts. Put batter into a 9″ cake pan and bake at 350 for 35 to 40 minutes. Top with cream cheese icing and nuts.