Well, the summer just flew by and school starts later this week. I have mixed emotions. It will be nice to get back to some routine but I feel like I just didn't do as much as I wanted.
On school days, I make sure that Q has a great breakfast. I can't be there to make sure he eats his snacks or his lunch but I can make sure he goes to school with a full stomach. Oatmeal is a favourite around here because he loves it and I know he is having something good to start his day.
This is a great recipe using steel cut oats. You put everything in the slow cooker the night before and breakfast is hot and ready in the morning. Topping are added to make things more fun and filling. The nuts give it a great crunch.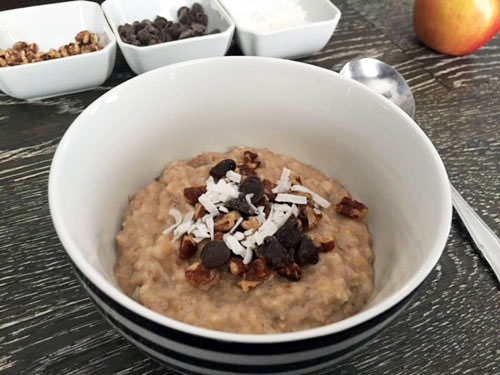 Slow Cooker Apple Cinnamon Oatmeal
1 cup steel cut oats
1 apple, peeled, cored and chopped
1 tsp cinnamon
1 1/2 cups milk + more for serving
2 cups water
2 TB brown sugar
salt
Toppings – nuts, chocolate chips, coconut, bananas, etc.
Place everything into a slow cooker and turn on low overnight. In the morning, add more milk as desired. Top with your favourite toppings and enjoy.