Have a freezer full of frozen blueberries? Use them to make these moist blueberry muffins.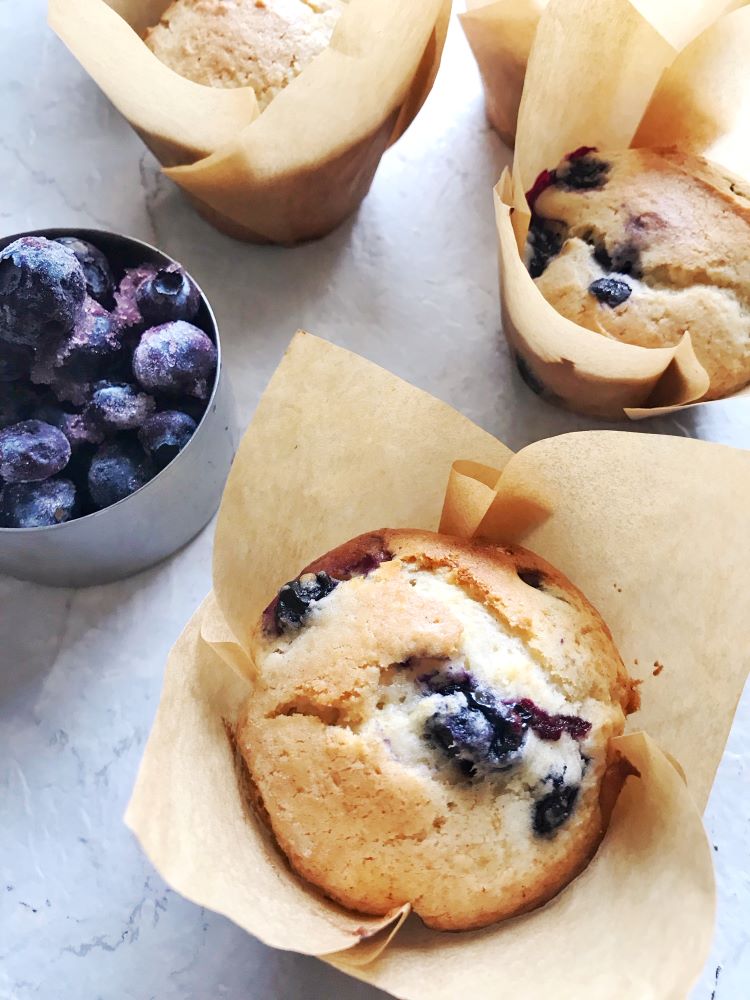 During the summer, I always make sure we freeze berries and fruit when they are in abundance. My favourite fruit to freeze are blueberries and cherries. You can do so much with them  – like baking and jam. It's always nice to enjoy those summer fruits throughout the year.
To freeze, I just make sure they are properly washed and dried and put them on large cookie sheets before putting them in the freezer. Once they are frozen, you can package them up in freezer bags and they aren't clumped into big chunks.
I've been working my way through the freezer and thought that some muffins were in order. The recipe can be halved or doubled so can either feed a crowd or can make enough for one pot of tea. The yogurt in these muffins make them moist and the cinnamon adds the perfect amount of warmth.
Tip
If you are using frozen blueberries, do not thaw. Use them straight from frozen to avoid the colour running through the batter.
Yields Makes 12-14 muffins
Blueberry Muffins
Ingredients
1/2 cup butter
1 cup sugar
2 eggs
1 tsp vanilla
1/2 cup yogurt
2 cups flour
2 tsp baking powder
1/2 tsp cinnamon
1/4 tsp salt
1 cup blueberries
Instructions
Cream the butter and sugar until well combined.
Add eggs and beat.
Add yogurt and vanilla and mix well.
Add the dry ingredients and mix until combined without overmixing.
Fold in the blueberries with a spatula.
Fill paper-lined muffin cups 2/3 of the way.
Bake at 375 degrees for 30-35 minutes.
7.8.1.2
85
https://foodmamma.com/2019/04/blueberry-muffins-2/