With life being so busy, sometimes it's just easy to pick up a roasted chicken from the store. It's cheap and tasty and goes a long way. When I have the time though, it's always nice to make it at home, changing up the seasonings depending on what everyone feels like that day. This recipe is a simple one, with minimal prep time.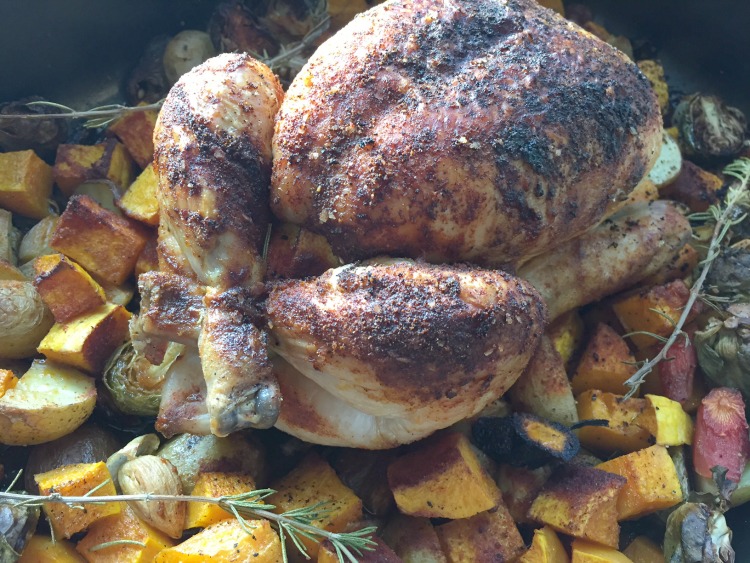 I like to roast the chicken on a bed of vegetables. I love the flavour the juices from the chicken adds to the veggies. They become soft and caramelized and something that no one in this household can resist. Even the ones who aren't too fond of veggies will happily gobble these up. I also toss in cloves of garlic with the vegetables because, well, roasted garlic! What you use can vary but I always try to include carrots, onions and potatoes. This time I added butternut squash and brussel sprouts as well, which roasted and caramelized so nicely.
This one pan meal is definitely something to have in your back pocket. For a filling mid-week meal or a cozy Sunday supper, its always a crowd pleaser.
roasted chicken and veggies
Ingredients
1 small chicken
2 tsp kosher salt
1 tsp paprika
1 tsp garlic powder
1 lemon, quartered
1 garlic head, halved
your choice of vegetables, as much as you want
olive oil
salt
pepper
4 sprigs rosemary
1 head of garlic, cloves separated
Instructions
Place all the vegetables at the bottom of a roasting pan. Drizzle with olive oil, salt and pepper and toss. Add the garlic and rosemary.
Fill the cavity of the chicken with garlic and lemon and tie the legs. Brush the chicken with olive oil. Combine the salt, paprika and garlic powder and sprinkle all over the chicken. Place the chicken on top of the vegetables.
Roast the chicken in a 375 degree oven for 1 1/2 to 2 hours until the internal temperature reaches 85 degrees Celsius.
Let the chicken rest for 20 minutes before serving.
7.8.1.2
2
https://foodmamma.com/2016/11/roasted-chicken-veggies/