Last month, I was invited to Ford's Sustainability Feast at The Calary Zoo. It was an enlightening evening learning about how Ford is making waves with its sustainable practices.
I loved that this place took place after hours at The Calgary Zoo. It was a great location given the Zoo's efforts in being a sustainable facility.  The dishes that were served featured some of the herbs and vegetables grown in the zoo's Garden of Eatin'.
We started off in the Enmax Conservatory with appies and drinks followed by the sustainability efforts by Ford. I was surprised to learn about all the food materials that were being tested and incorporated into Ford vehicles. From soybeans to coconut to agave and even tomatoes, Ford is using partnerships with Heinz and Jose Cuervo to incorporate food items and make their vehicles more sustainable.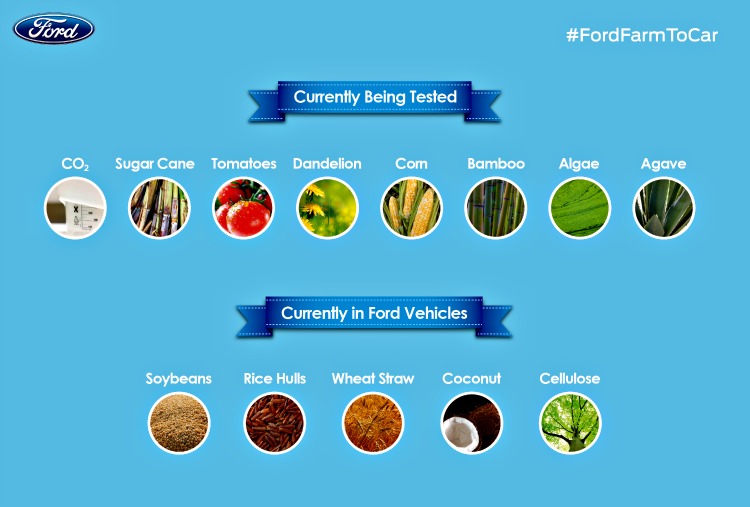 We then moved into the Botanical Gardens. The setting was stunning! It is here that we were treated to a four course meal  incorporating items that are used in Ford vehicles.
Our first course was dandelion greens, apple wedges, roasted beets, mulled red wine and sugar cane gastrique with pumpkin seed brittle.  This was served in a homegrown bamboo shoot plate and highlighted dandelion. Dandelion is currently being tested as a natural rubber source.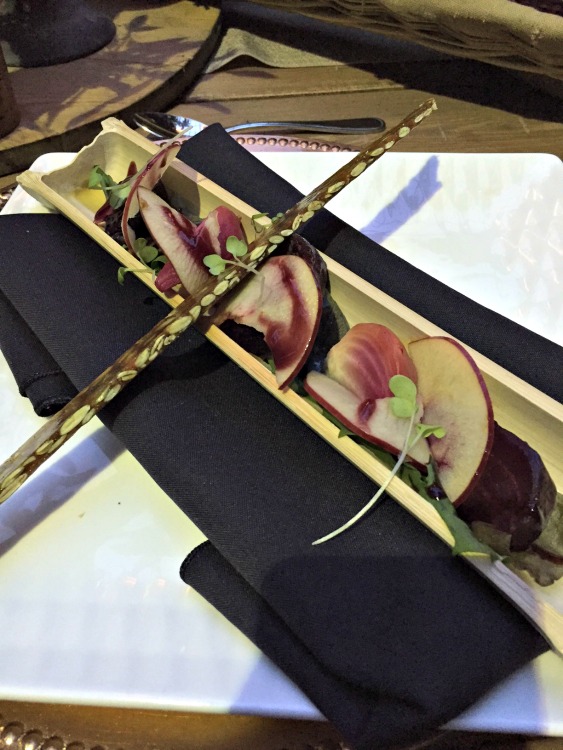 Our second course was a miso glazed sous vide ling cod, grapefruit segments, coconut yam puree, wilted frisee with a soy custard and soy foam. The soy was the highlight of this dish, as it is used to make the foam in the seats of the vehicles. This has been implemented in every single Ford vehicle in North America.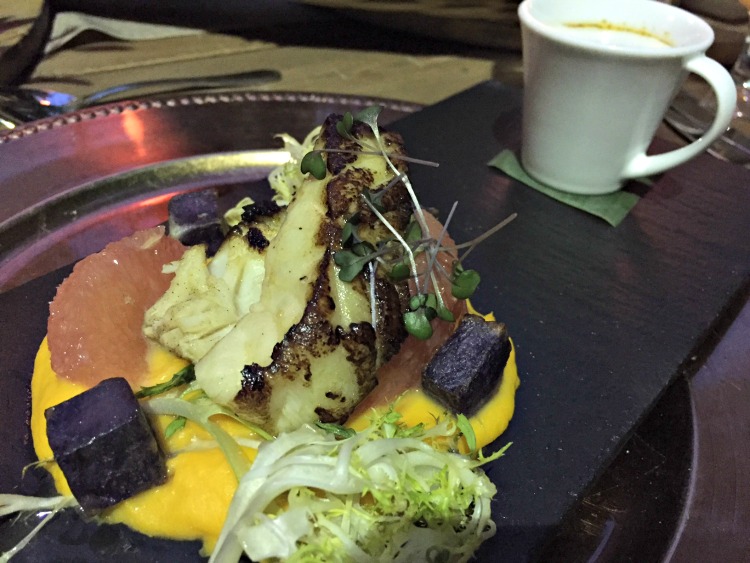 We had a palate cleanser half way through our dinner, coconut midori sorbet. Coconut is used in trunk liners.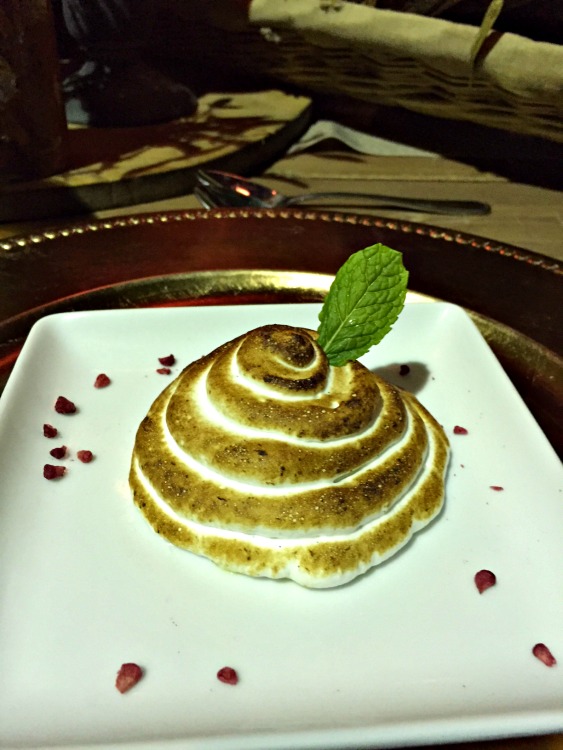 Our third course was a wheat grass smoked veal striploin with potato dauphinoise, vanilla bean sugar cane glaze, microgreens and seasonal vegetables. Sugar cane is currently being tested for durability.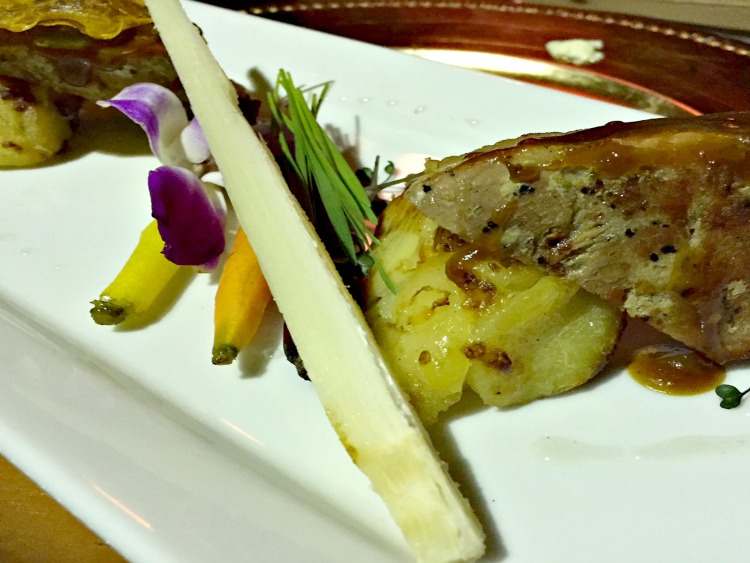 Our final course was a s'mores graham shortbread cookie crumble with a dark chocolate ganache, torched vanilla marshmallows, cellulose ingredient and vanilla gelato. Cellulose is being used to replace glass-filled plastic which weighs less, is produced 30% faster and reduces carbon emissions.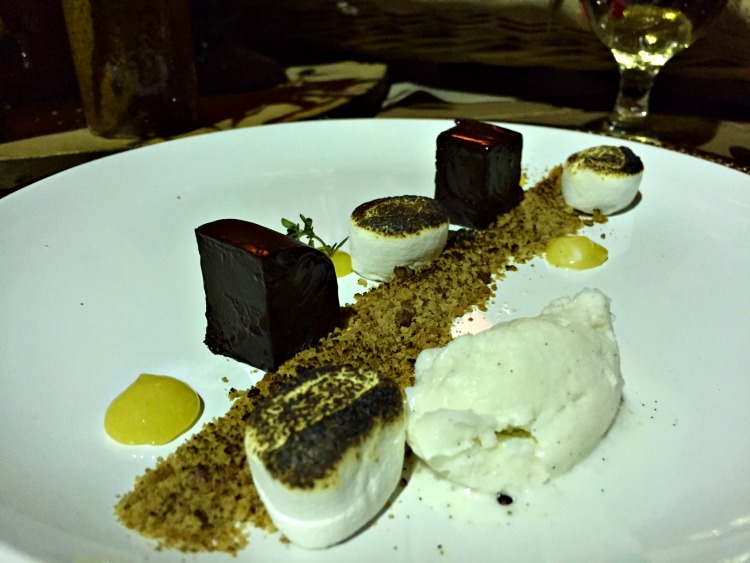 It was a great evening in a spectacular setting with delicious food. It was so interesting to learn about all the advances that Ford is making and how they are doing their part.