Happy Canada Day! There's always so much to do to celebrate Canada's birthday. We spent the morning hanging by the lake, taking in some local celebrations.
Later in the day, we had a potluck with friends. I thought it would be fun to have some Canadian treats and definitely wanted Nanaimo bars to be on the menu.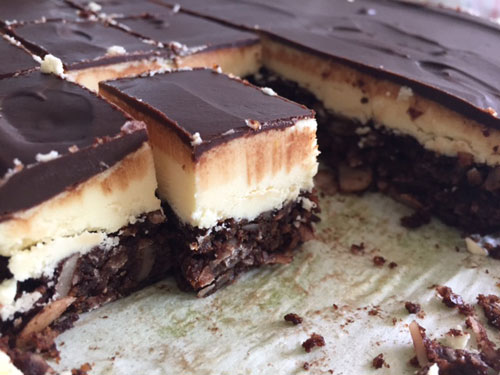 Nanaimo bars actually take me back to my childhood. I remember making them with my mom in anticipation of sleepovers at my house with my friends. That and Nightmare on Elm Street pretty much summed up those nights with the girls.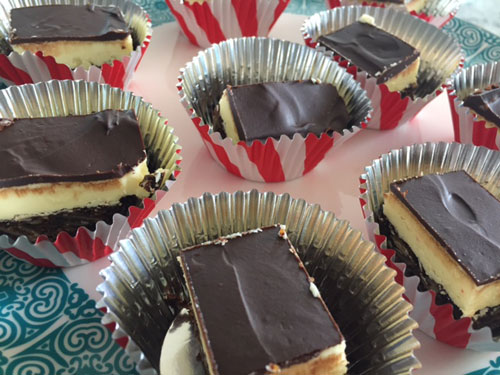 I couldn't find the recipe that we used to make so used this one from Anna Olson. I substituted almonds for the walnuts and didn't add the salt on top. They were a hit!



Nanaimo Bars
Adapted from Anna Olson
Crust:
1 cup graham cracker crumbs
3 TB cocoa powder
1/2 tsp salt
1 cup sweetened flaked coconut
1/2 cup sliced almonds
6 TB butter, melted
1 large egg, beaten
Filling:
1/2 cup unsalted butter
2 cups icing sugar
2 TB vanilla custard powder
Pinch of salt
3 TB milk
1 tsp vanilla
Topping:
4 oz semisweet chocolate, chopped
2 TB unsalted butter
Crust: Preheat the oven 350 degrees. Grease an 8″ square pan and line with parchment paper. Combine the graham crumbs with cocoa and salt, then add the coconut and nuts. Stir in the melted butter and the egg and stir until blended. Press into the prepared pan and bake for 12 minutes. Cool the crust completely before preparing the filling.
Filling: Beat the butter with 1 cup of the icing sugar, custard powder and salt until smooth. Add the milk and vanilla and beat, then add the remaining 1 cup of icing sugar. Spread evenly over the cooled crust.
Topping: Melt the chocolate and butter in a metal bowl placed over a pot of barely simmering water, stirring gently until melted. Cool the chocolate slightly and pour over the filling, smoothing it out with an offset spatula. Chill the pan for 2 hours before slicing into bars.