It's October and time for one our favorites – the Rocky Mountain Wine and Food Festival. The Festival presents Calgarians an exclusive opportunity to sip, sample and savour with friends, family and co-workers.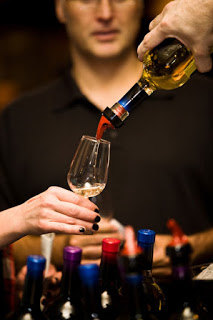 The Calgary Rocky
Mountain Wine & Food Festival, sponsored by Sobeys Liquor and
Safeway Wine & Spirits, is back for a weekend of indulgence,
offering a unique opportunity to explore new products and flavours. The
Grand Tasting Hall will overflow with more exhibitors than ever before!
Attendees can expect 140 wineries, featuring a distinguished collection
of wines from 16 different countries, more
than 150 brands of premium spirits, single malt and blended scotches,
port, liqueurs and craft beers. Taste what's new and hot in the adult
beverage scene with approximately 100 new-to-Alberta wines, beers and
spirits! Bursting with flavour, nearly 50 local
restaurants and food purveyors will cook up a variety of gourmet
culinary creations. For an enriched tasting experience, knowledgeable
industry experts will be on hand to educate and entice.
The event takes place a the BMO Centre, Halls D & E on Friday, October 16, 5 – 10 p.m, Saturday, October 17, 12 – 4 p.m. and Saturday, October 17, 6 – 10 p.m. Tickets are available online at
www.rockymountainwine.com. Sampling coupons are required for sampling and are available for purchase onsite.
Want to win tickets to the event? I have a pair of tickets to the Saturday, October 17, 2015 afternoon session which runs from 12 to 4pm. See the many ways to enter down below. The ticket includes free entry into the festival but winners will have to purchase tasting coupons. Please note that you must be 18 or over to be eligible.