When I planted my garden this past Spring, I didn't really think anything would grow. It was a little experiment that I didn't have a lot of confidence in. It was exciting when things started to grow, and we have enjoyed watching the garden blossom.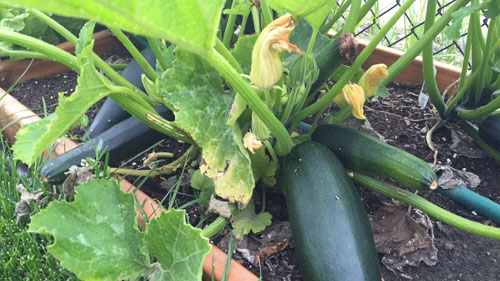 When I checked the garden yesterday, I was thrilled that there were zucchini! I was so excited, I picked one out and decided to do some baking after everyone had gone to sleep. My favourite use of zucchini is a chocolate loaf. I wanted this to be filled with all the things so loaded up this loaf with chocolate chips, pecans and coconut.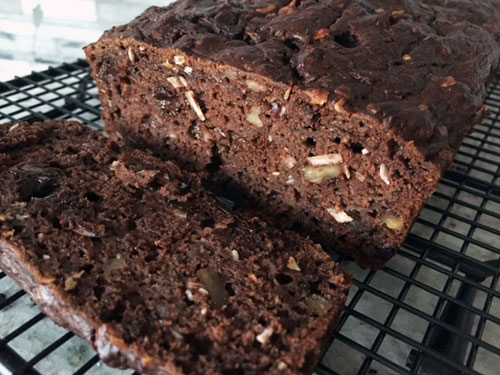 This zucchini loaf is made with yogurt and is chocolately and super moist. Definitely one to try!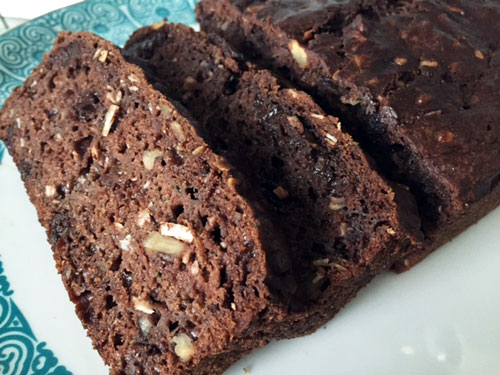 Chocolate Pecan Coconut Zucchini Loaf
1 1/2 cups flour
1/4 cup cocoa powder
1/2 tsp baking powder
1/2 tsp baking soda
1/2 tsp salt
1/2 cup pecans
1/2 cup chocolate chips
1/2 cup flaked coconut
1/4 cup olive oil
1/2 cup yogurt
1 egg
3/4 cup sugar
1 tsp vanilla extract
2 cups shredded zucchini
In a large bowl, whisk together the dry ingredients. Add in the nuts, chips and coconut and set aside.
In another bowl, whisk together the wet ingredients along with the egg and sugar. Stir into the zucchini. Pour this mixture into the dry mixture, and stir until combined.
Bake at 350 degrees for 50 minutes.