I was very excited about the release of another "A Spicy Touch" cookbook. This is the food that I grew up with – Indian food with East African influences. Noorbanu Nimji's books have been a staple in my house and of most people that I know. They are a great reference for even the most experienced home cook. I was especially excited for this new book since it was co-authored by my friend, Karen Anderson.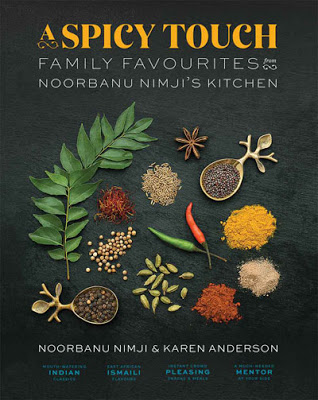 This book is beautiful with pictures of mouth-watering food. I especially like the pictures of the different spices and the step-by-step instructions. The pictures help make it easy to know what to look for in the grocery store. The book is hard cover and would make an excellent gift for any foodie!
I love how this fourth book incorporates stories and tips – it is definitely my favourite of the series! Check out the website for more info.
This recipe for Chana Wagharia was super easy to make and was a hit with all the boys. I was happy that I had most of the items in the pantry and took less than 30 minutes to make.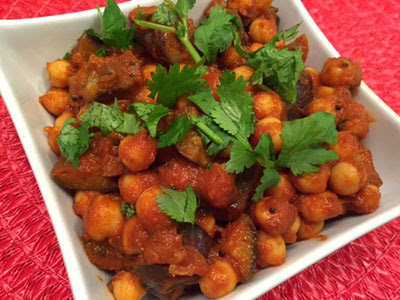 Chana Wagharia
From A Spicy Touch
1 TB olive oil
5 – 6 curry leaves
1/2 tsp mustard seeds
1 cup canned crushed tomatoes
1 Chinese eggplant, cut into bite-size cubes
1/2 tsp salt
1/2 cup water
1 1/2 tsp ground cumin
1/4 tsp turmeric
1 tsp coriander
1/2 tsp sugar
1/2 tsp Indian chili powder
1 19oz can chick peas
1 TB Ambli Ni Chutney or 1 TB lemon juice
1 TB finely cut coriander leaves
Heat the olive oil in a saucepan on medium heat and add the curry leaves and mustard seeds. Cook covered until the seeds pop – about 1 minute.
Stir in the tomato, eggplant and salt and cook on medium-low heat – adding a little water if necessary – until eggplant is almost cooked, about 10 minutes.
Stir in the cumin, turmeric, coriander, sugar and chili powder and cook for 4 to 5 minutes more or until the eggplant cubes are cooked and tender when pierced with a fork.
Stir in the chickpeas, Ambli Ni Chutney or lemon juice and simmer for another 5 minutes. The gravy should cover the chickpeas and eggplant.
Stir in the coriander leaves just before serving.