I have been wanting to go to Hawaii for years. With a big birthday coming up next month, I decided that this was the year we were going, no matter how much hubby was resisting. I can't wait!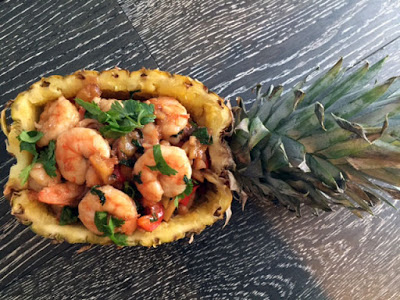 I made this pineapple shrimp dish to get us into the tropical spirit. It's a perfect balance of sweet and heat and super tasty. This dish comes together super quick and goes great with rice or all on it's own. Make it even more festive by serving it in a pineapple bowl!
Pineapple Shrimp
1/4 cup pineapple, chopped
1/2 red onion, chopped
2 cloves garlic
1/2 red pepper, chopped
1 green onion, chopped,
1 pound shrimp
2 TB hoisin sauce
2 TB soya sauce
1 tsp sriracha, or as needed
cilantro
vegetable oil
sesame oil
Add some vegetable and sesame oil to a hot pan. Add the garlic, onions and shrimp. After a minute, add the pineapple and sauces and cook until shrimp are opaque. Sprinkle with cilantro and enjoy.