I am a huge fan of prawns so naturally, one of my favorite curries is prawn curry. Thankfully Q is a huge fan as well, making it an easy excuse to have it often. I tried a different recipe this time, one from my mother-in-law, who is an amazing cook. Try it out, you'll love it!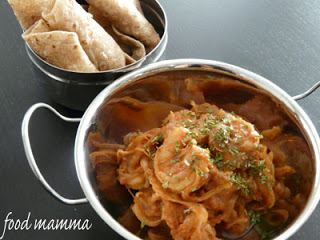 Prawn Curry
2 TB oil
2 onions, sliced
1 lb. prawns
1 tsp. ginger
1 tsp. garlic
pinch tumeric
1/2 tsp. coriander powder
1/2 tsp. cumin powder
2 tomatoes, blended (or 1/2 c. crushed tomatoes)
1 TB tomato paste
salt
1 TB lemon juice
1 TB garam masala
Saute the onions in the oil until soft and translucent. Keep the heat on medium-low and add the shrimp. Add the ginger, garlic, tumeric, coriander, cumin, tomatoes and salt and let the shrimp continue to cook. Once the shrimp are done and you have reached the desired consistency, add lemon juice and garam masala and serve!