As much as I love cooking, sometimes after a long day at work, the last thing I want is to spend time in the kitchen. With a 20 month old though, its not always easy to grab some takeout that has the nutrition that is important in his diet. This is one of my favorite dishes and it's a quick and easy dish to prepare. The starch from the orzo makes the dish creamy, like a faux risotto. Q can be moody about food, and things he likes one day can be something he doesn't touch the next. This orzo is tasty and comforting and a dish that he never says no to. This dish is inspired by Ina Garten's Baked Shrimp Scampi.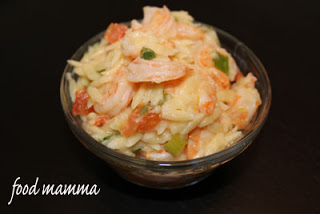 Garlic Lemon Shrimp Orzo
1 pound of peeled, deveined shrimp
2 cloves garlic, minced
4 green onions, chopped
2 tomatoes, chopped
grated lemon zest
juice of 1/2 lemon
4 TB butter
2/3 cup panko
1/2 cup orzo, cooked
salt
pepper
Cook the shrimp in oil until almost cooked through. Add the garlic, onions, tomatoes, and lemon zest and stir. Add in the lemon juice, butter and panko and stir until mixture becomes thick. Add orzo and stir until combined.