While running errands in the south end of town this weekend, we stopped for lunch at one of my favorite sushi stops – Kinjo! Kinjo is located on Macleod Trail, just south of Chinook Centre.
Kinjo is one of those rare places that you consistently get great food and great service. As we entered the restaurant, we were greeted with many hellos and friendly faces. Luckily we missed the lunch rush and were seated right away.
Although the owner Peter wasn't there, Henry came over and made us feel welcome and brought over a little orange head for Q. The staff made a conscious effort to take care of all of us, even our toddler, which was much appreciated. The waitress even brought over chopsticks wrapped in elastic for Q so that he could get an early start at learning how to use them.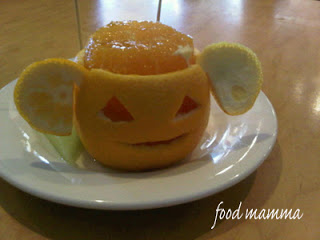 We were brought a sampler sushi plate to devour while we ordered and our sushi came quick. The food was fantastic as always. The new thing we tried was the tempura avocado which was so good, we had to order a second plate.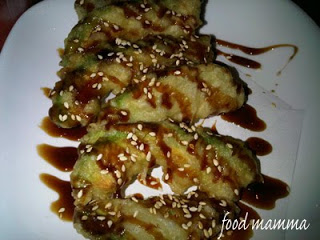 I love that the staff at Kinjo are so accomodating. Other places, like Shibuya, could learn a lot from them. We went to Shibuya a couple weeks ago. Close to Centre Street on 16th Avenue, we ducked into the restaurant when Q showed signs of hunger. We knew the California Roll would do the trick and after peeling away the seaweed, he devoured the crab and avocado filling.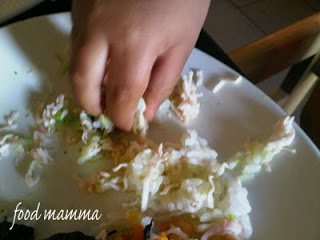 For the next round, we requested just the filling, no seaweed, which seemed to confuse the staff. Our waitress said that they wouldn't know how to charge us so they couldn't do it. When we told them that it was for Q, and that whatever filling they would use in a roll to just put in a bowl, they refused. The reluctance of the staff to accomodate us and the rolling eyes of the hostess definitely put Shibuya on the "stay away" list.
As for Kinjo, we will be back, many times over.