We finally had a fabulous hot weekend and it was the perfect weather to enjoy the Kensington Sun and Salsa Festival. We tried many different salsas – spicy, cool, red, green – but my favorite was Broken Plate's greek salsa made with feta. It was delicious and I was inspired by the mediterranean flavours. I had thawed chicken breasts waiting for me at home for the next day's dinner, the perfect canvas to play! A little of this and a little of that and I came up with this tasty marinade that left the chicken flavourful and juicy.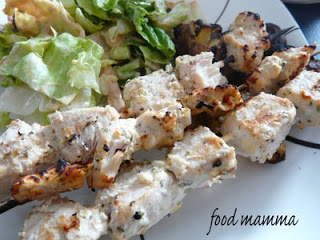 Greek Chicken Kabobs
1 cup plain yogurt (Balkan style or homemade)
1/4 cup seasoned feta cheese
2 TB greek seasoning (I used Club House)
2 cloves of garlic
Zest of one lemon
Juice of half a lemon
3 chicken breasts, cubed
In a bowl, mix first 6 ingredients. Add the chicken and marinate overnight. Skewer the chicken and bbq. Perfect with salad and grilled smashed potatoes.