It was quite the week last week, even though I had it off! My parents had gone away with the family for the week and since I had no childcare, I was lucky enough to spend the week with my toddler. I thought that I would be able to update this blog every couple of days, completely forgetting how much attention little ones need. We enjoyed our week with playdates and trips to the zoo and I even managed to do some experimenting in the kitchen.
This is a dish that I have eaten since childhood, called Chana Bateta. Literally, it translates to "Chickpeas and Potatoes". I would consider this as more of a soup or a stew than a curry as it is not eaten with rice or a bread, like naan or chopati. It is eaten with a spoon, topped with the indian snack Chevdo, or what I prefer, potato chips! If you have some tamarind chutney, add a bit of that too. I couldn't believe how easy this vegetarian recipe was to make, 20 minutes and it was ready to serve.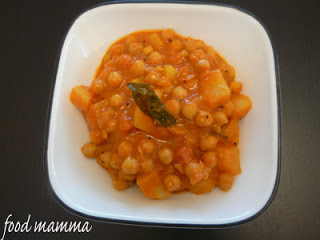 Chana Bateta
1/2 tsp mustard seeds
3 curry leaves
2 TB gram flour
1 large can of plum tomatoes, blended + 1 TB of its liquid
1/2 tsp turmeric
2 medium potatoes, boiled and cubed
1 large can of chick peas
1 cup water
3 TB lemon juice
salt
Heat the oil in a pan and add mustard seeds and curry leaves. When the seeds start to pop, add the gram flour and cook for a few minutes. Add the tomotoes and cook for another five minutes. Add the turmeric and some red chili powder next. Mix and add the chickpeas, water, lemon juice and salt and cook for 10 minutes.