On a recent trip to Vegas, while waiting for our flight back, I enjoyed some broccoli and cheddar soup. It had been a long time since I had that type of soup and I thoroughly enjoyed every bite. I have stayed away from making too many cheesy things since it can't be enjoyed by all of us but lately there are some great lactose-free cheese options. Since broccoli is one of the vegetables that my kids will actually eat, I thought this was something I really wanted to try at home.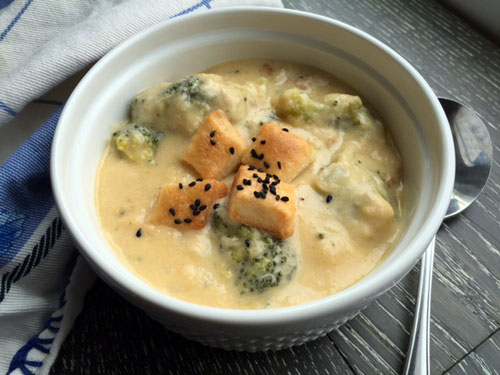 I made this soup last month and it was a keeper. The cheesy broth with chunks of broccoli was tasty and comforting. This paired deliciously with the homemade cheddar crackers – there's no such thing as too much cheese, right? This will definitely be keeping us warm during those cold days of Fall and Winter.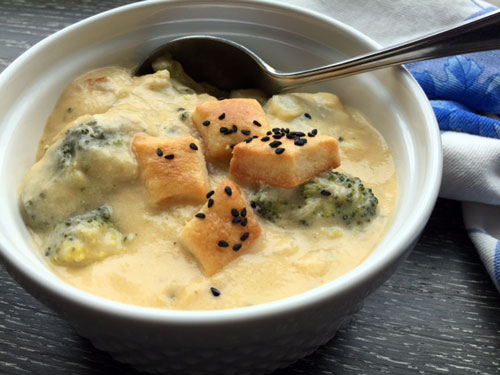 I'm happy to be participating in the Canadian Food Creatives Autumn Soup Collaboration. Thanks so much to Diana for hosting! Check out all the fabulous recipes and see this recipe below.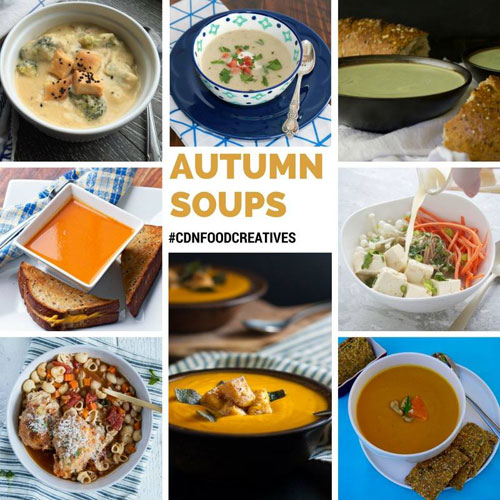 Roasted Chicken Minestrone Soup by My Kitchen Love
Lighter Potato Leek Soup by Fuchsia Freezer
Roasted Red Pepper and Tomato Soup by 365 Days of Easy Recipes
Cream of Spinach Soup by I Say Nomato
Miso Noodle Soup by The Refreshanista
Chipotle Sweet Potato Soup with Polenta Croutons by Flavour and Savour
Creamy Carrot Orange Soup with Cashews by Making Healthy Choices
Roasted Butternut Squash Ginger Pear Soup by She Loves Biscotti
Broccoli and Cheddar Soup
Oil or butter
1 small onion, chopped
1/4 cup flour
2 cups milk
2 cups broth
1 small broccoli, chopped
2 1/2 cups Cheddar cheese
salt
pepper
In a pot, heat some oil and saute the onion until translucent. Add some more oil or butter and cook the flour. Whisk the milk into the flour, then the broth, stirring constantly to make sure there are no lumps. Let the broth mixture cook for ten minutes. Add the broccoli and cook until the florets until tender. Stir in the cheese and season with salt and pepper. Serve with crackers or bread.