One of our favourite vegetables is butternut squash. It is one of those things that need very little to enjoy. A drizzle of olive oil and some salt and pepper, and roasted in a 350 degree oven, you have yourself something pretty fantastic.
With Thanksgiving just a couple of days away, this is definitely something to add to your menu. It's easy and the sage brown butter sauce elevates this simple dish into something amazing. The dish is complete with a sprinkling of roasted pecans.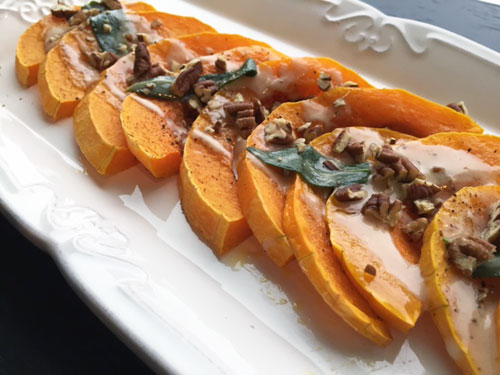 This sauce….it is something else. Butter and sage pulled together with a splash of cream – something so simple but so luscious. It is one of those sauces that you will make you want to lick the plate. Don't say I didn't warn you!
Roasted Butternut Squash with Sage Brown Butter Sauce
1 medium butternut squash
1/4 cup unsalted butter
10 sage leaves
2 TB whipping cream
1/4 cup pecans, roasted
salt
pepper
Peel the butternut squash. Cut in half and scoop out the seeds. Cut into slices and place on a baking sheet. Drizzle some olive oil over the squash and add salt and pepper. Roast in a 350 degree oven for approximately half an hour.
In a small pan, on medium heat, melt the butter. Add the sage and let the butter brown. Stir in the cream and mix until smooth. Season with salt.
Arrange the roasted squash on a plate. Drizzle with sauce and pecans.