Lemon and garlic, they are a pair that go so well together! Last week, when I needed something quick for dinner but didn't want to skimp on the flavour, this pasta did the trick.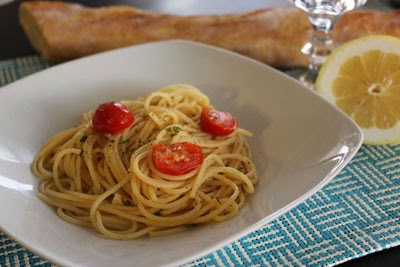 The sauce came together while the pasta cooked and dinner was on the table in no time. It was perfect with a crusty baguette and was a light dish. Just add some shrimp or chicken to please the non-vegetarian people in your life!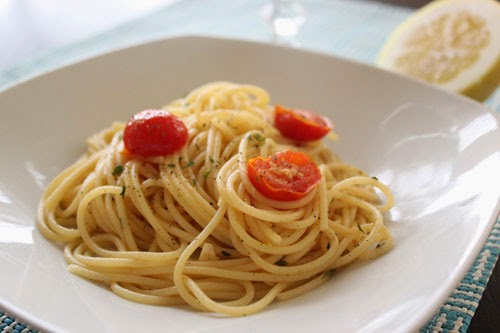 Lemon and Garlic Pasta
3 cloves of garlic
2 TB white wine
juice of 1/2 lemon
1/2 pint of cherry tomatoes
1/2 pound of spaghetti, or any other pasta
salt
pepper
olive oil
Cook the pasta according to the box.
While the pasta is cooking, heat some oil and saute the garlic. Add the wine and lemon along with the cherry tomatoes until they start to pop. Once the pasta has been cooked, add to the pan and season with salt and pepper. Super quick and super tasty!