In my special delivery from The Little Potato Company, I received a package of cute little fingerling potatoes. I thought these would go great with our Turducken dinner and was the perfect time to try accordion or hasselback potatoes.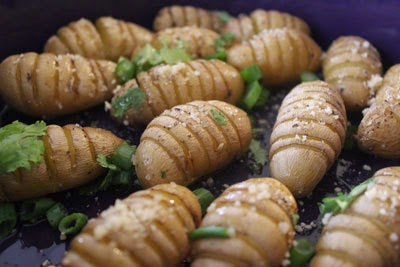 I sliced each potato, stopping before I reached the bottom. I then drizzled the potatoes with olive oil and sprinkled some salt and pepper. They cooked for about half an hour on 350 degrees. When they were done, I pulled them out of the oven and drizzled on some more oil and sprinkled them with Parmesan cheese. A handful of green onions provided a nice crunch and contrast and cilantro made the finishing touch.
These were so tasty! They had a nice crisp outside but the centers remained soft and creamy. I'll definitely be making these again!