One of hubby's favourite sides is scalloped potatoes. For some reason, I always thought it would be more time consuming than mashed potatoes so it was never a priority for me to make. This year, I thought I'd give it a whirl with this recipe from Canadian Living. I didn't realize how easy this was! I used lactose free milk which was cooked with garlic and thyme and poured onto thinly sliced potatoes. It didn't take long to prepare and the resulting potatoes were creamy and perfect for our Sunday Supper.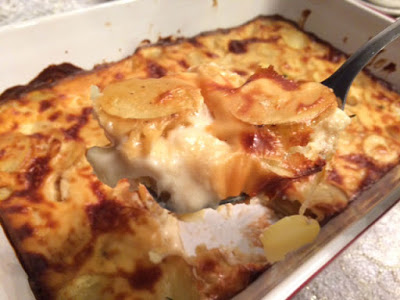 Scalloped Potatoes
Adapted from Canadian Living
1.5 pounds potatoes, sliced
1/4 cup butter
3 cloves garlic, minced
1/4 cup flour
1 tsp thyme, chopped
salt
pepper
2 1/2 cups milk
In saucepan, melt butter over medium heat; cook garlic, stirring, for 1 minute. Add flour, thyme, salt and pepper; cook, stirring, for 1 minute.
Gradually whisk in milk; cook, whisking constantly, until boiling and thickened, about 8 minutes.
Arrange the potatoes in a baking dish. Pour sauce over top, allowing the sauce to completely cover the potatoes.
Cover and bake in 350 degree oven for 1 hour. Uncover and bake until lightly browned and potatoes are tender, about 30 minutes. Let stand for 5 minutes before serving.