After a weekend of chocolate bunnies and candy eggs, we definitely need to implement Meatless Monday. This is one of our new favourite things – butternut squash curry. Made with roasted squash, and tossed with some Indian flavours, it definitely hits the spot.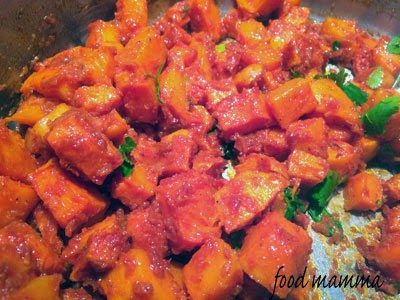 Once the squash is roasted, the curry comes together in minutes, making it the perfect dish to use up leftover squash.
Butternut Squash Curry
1 medium squash, cubed and roasted
oil
3 TB crushed tomatoes
2 tsp tomato paste
3 TB fried onions
1 tsp crushed ginger
1 tsp crushed garlic
1/2 tsp coriander powder
1/2 tsp cumin powder
1/2 tsp turmeric
1/2 tsp salt
1/4 cup water
coriander for garnish
Heat a pan and add a little bit of oil. Add the
tomatoes, onions and spices and cook for a few minutes. Add the squash and water and
let simmer for 10 minutes.