We had leftover kebabs for dinner the other night and I needed a vegetable side to go along with it. I had this idea of combining sumac with the cauliflower and thought it would be a great accompaniment to our dinner.
Sumac is a middle eastern spice which I really should use more often. It has a bit of a tart lemony flavour, perfect for livening up vegetables or even meat. I combined the sumac with some complementary flavours of coriander and garlic and tossed it with the cauliflower florets. These were then roasted until the cauliflower was carmelized – yum!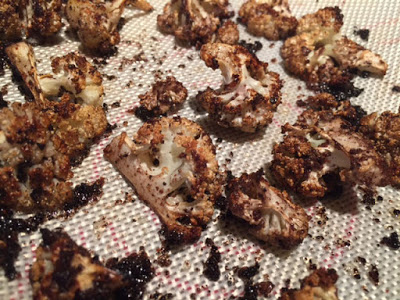 My only regret when I made this was I only did half the cauliflower. I didn't realize how big of a hit this was going to be. Hubby loved it, but even more surprising, Q loved it. He couldn't get enough and requested I make the other half right away!
Sumac Roasted Cauliflower
1 head cauliflower, cut into florets
3 TB olive oil
2 TB sumac
1 TB garlic powder
1 TB coriander powder
salt
pepper
Combine the oil and the spices and toss with the cauliflower florets. Place on a baking sheet and bake at 350 degrees for 25 to 30 minutes or until cauliflower is soft.