If there's one thing that all four of us like to snack on, it would have to be nuts. We are nuts about nuts. We aren't that picky about which ones – almonds, peanuts, pecans….any will do!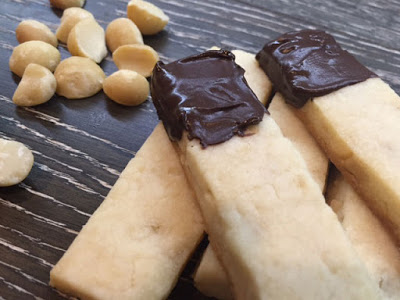 Naturally, when we were in Hawaii last week, we indulged in lots of macadamia nuts and of course, brought some home. We loved the little cookie shops filled with macadamia shortbread so it was on my list of things to make.
These cookies are buttery and nutty and made extra special with the ends dipped in chocolate. Perfect to nibble on while dreaming about palm trees and sandy beaches.
Macadamia Nut Shortbread
1 cup butter, softened
1/2 cup icing sugar
1 tsp vanilla
2 cups flour
1 cup macadamia nuts, chopped
In a mixer, whip the butter. Add the sugar and vanilla until incorporated. Add the flour and nuts until the dough comes together. Place the dough in saran wrap, forming into a disk. Refrigerate until firm.
Roll out the dough and cut into rectangles (or whatever shape you want). Bake at 350 degrees for 10 minutes.