We have been trying to use up the zucchini from the garden before the cold sets in. We have roasted them, grilled them and of course put them in loaves. Here is another way to use up that zucchini – pakora! I'm pretty sure Q ate most of these. He doesn't like onions but these were so tasty, the fact that they were in there didn't bother him at all.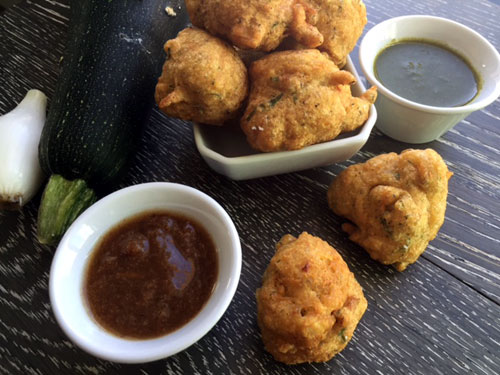 These golden balls are easy to fry up and filled with deliciousness. The addition of baking powder makes them a little puffy. The pakora make a great appetizer or snack and are even tastier when dipped in tamarind chutney.
Zucchini Pakora
2 cups gram flour (chickpea flour)
1 small onion, sliced
1 cup zucchini, grated
1 tsp cumin powder
1 tsp coriander powder
1/4 tsp turmeric
1/2 tsp salt
1 1/2 tsp crushed ginger
1 1/2 tsp crushed garlic
1 small egg
1/2 cup water
1/2 tsp baking powder
Combine the flour with the spices, egg and vegetables. Slowly add the water mixing until it forms a batter. Add the baking powder and mix well. Drop by spoonfuls into hot oil until golden. Enjoy with tamarind chutney.