My little guy turned two last week. Two! He is so precious, always ready to greet everyone with his mischievous smile.
Normally, I plan out birthday parties weeks in advance, giving me lots of time to prep and plan. This time, I decided to do a very last minute gathering for our family and close friends. Not having the luxury of time, I needed to do things that didn't require a lot of effort.
This spinach dip is a crowd pleaser and takes just a few minutes to throw together. You do need to make this the day before though, allowing the dip to chill overnight.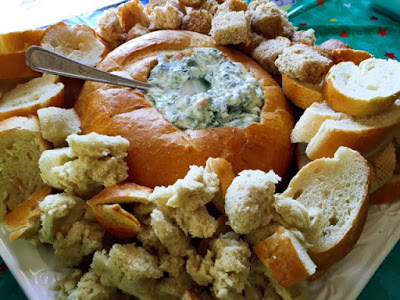 Put the dip into a bread bowl and serve with bread, crackers or veggies and voila, an easy but delicious appetizer. I've been making this dip for years and it is always a hit!
Spinach Dip
2 cups sour cream
1 cup mayo
1 package chopped spinach, thawed and squeezed dry
1 package dry vegetable soup mix
Combine all the ingredients together. Chill overnight. Serve in a hollowed out sour dough bread loaf.