One of my favourite East African meals to eat is Mogo. It's a chicken or
beef dish with cassava in a creamy sauce. It's pure comfort food but
also a great way to feed a crowd.
There are so many different ways to make this – with creamed coconut or
coconut milk, chunky or blended… This is my family's version, the way I
grew up eating it.
Top this off with some cilantro and crushed up potato chips, a drizzle
of tamarind chutney, and you've got yourself a delicious dinner.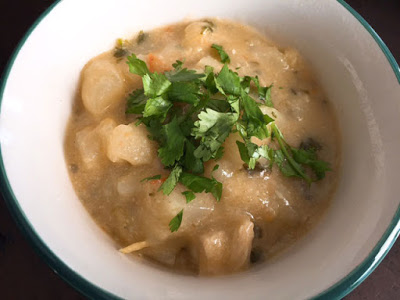 Creamy Coconut Cassava with Chicken (Mogo)
1 lb chicken, cut into pieces or cubes
2 tsp ginger
salt
2 1/2 cups water
800 g cassava, cut into cubes (2 small packages)
3 1/2 cups water
2 tomatoes, chopped
salt
1 150g box of creamed coconut
1/4 tsp turmeric
1/2 tsp garlic
1 tsp cumin powder
cilantro
Cook chicken with ginger and salt until the chicken is cooked.
Boil cassava with tomatoes and salt and cook until the cassava is fork tender. Add the cooked chicken along with the liquid, the coconut and spices and cook for about half an hour. Add a handful of chopped cilantro and stir it into creamy mixture. Serve topped with cilantro and tamarind chutney.