We have been eating way too much red meat lately. It was time to take a break and start making more chicken and fish dishes. Looking through my fridge, I found I had some chicken and spinach, so I figured I would make hubby happy and make an Indian dish. Indian food does not have to be complicated or time consuming. In less time than it took Q to watch an episode of "In The Night Garden", this dish was ready to eat!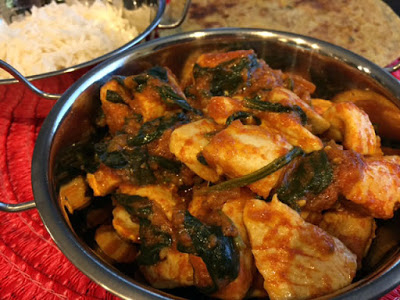 Chicken and Spinach Curry
Oil
3 chicken breasts, cubed
1/2 pound baby spinach
3 TB crushed tomatoes
2 tsp tomato paste
3 TB fried onions
1 tsp crushed ginger
1 tsp crushed garlic
1/2 tsp coriander powder
1/2 tsp cumin powder
1/4 tsp turmeric
3/4 tsp salt
1/4 cup water
coriander for garnish
Saute the chicken in the oil until half-cooked. Add the spinach and continue cooking until chicken is cooked and spinach is wilted. Add the tomatoes, onions and spices and cook for a few minutes. Add water and let simmer for 10 minutes. Serve with rice or naan.