Its getting cold out there! The winter chill is in the air and its not even fall (almost, but not quite)! With a weekend filled with cold and rain, comfort food was called for, like slow cooker chili.
I love the slow cooker. You dump things in, plug it in and let it sit and cook for you. Plug it in in the morning and you have a delicious meal waiting for you when you come back home from work. I prefer plugging it in at night and enjoying the wonderful smells as I sleep.
This is the easiest chili recipe and its delicious. Perfect for those cold, rainy days.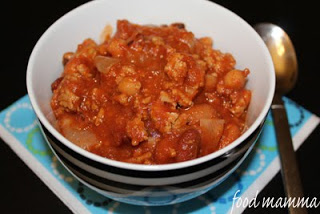 Slow Cooker Chili2 pounds ground beef, chicken or turkey, browned and drained
1 can mixed beans, drained
1 can crushed tomatoes
2 – 4 tablespoons chili powder
1 clove garlic, minced
1 1/2 teaspoons coriander powder
1 teaspoon salt
1/2 teaspoon pepper
1 tablespoon olive oil
1 large onion, chopped
1/2 cup water

Combine all ingredients in slow cooker and mix thoroughly.
Cook on low for 8 hours.