Today is Eid, a festival which marks the end of Ramadan and a month of fasting. On this joyful day, people celebrate by going to mosque and sharing a feast with friends and family. This year's dinner consisted of a fabulous meal made by my mother-in-law which consisted of biryani (a rice and meat dish), and freshly fried samosa.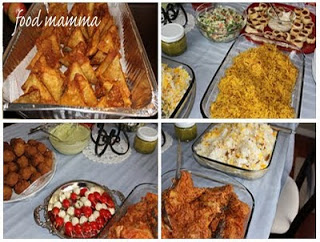 My contribution to the meal was a Tomato and Bocconcini salad made into an appetizer by placing the cherry tomato and cheese on a toothpick. This is one of my favorite salads – the combination of the lemon, garlic and basil adds so much flavour to the otherwise flat-tasting cheese.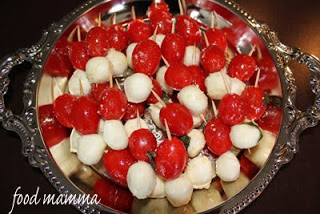 This is a ridiculously easy to make salad and a great way to use up those summer tomatoes. Its packed with so much flavour, and is a hit everytime it is served.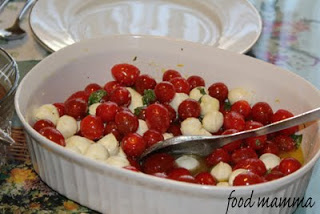 Tomato and Bocconcini Salad
200 grams mini bocconcini
1 pint cherry tomatoes
zest and juice of one lemon
2 garlic cloves, minced
basil bunch, chopped
2 TB parmesan cheese
1/4 cup olive oil
salt
pepper
Combine lemon, garlic, basil, parmesan, olive oil, salt and pepper. Add cheese and tomatoes and toss.