We are so thrilled that our dear friends will be having their first baby in a few weeks. We celebrated Baby L's upcoming arrival with a small dinner out with close friends. Even though we weren't really doing a shower, I wanted to do something to make the night out special. Of course, the idea that came to mind had to do with food! I had purchased a gingerbread man cookie cutter a month ago and never did get a chance to use it over Christmas. Using a sugar cookie recipe and the cookie cutter, the sugar 'baby' was created.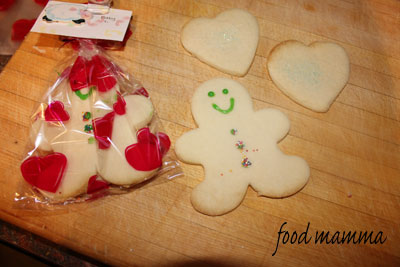 Roll-out Cookies
Adapted from Wilton
1 cup butter, softened
1 1/2 cups sugar
1 egg
1 1/2 tsp vanilla
2 3/4 cups flour
2 tsp baking powder
1 tsp salt
Preheat oven to 400 degrees. Cream butter and sugar until light and fluffy. Beat in egg and vanilla. In a separate bowl, combine flour, baking powder and salt. Add the flour mixture to the butter mixture 1 cup at at a time, mixing after each addition. Divide dough into 2 balls. On a floured surface, roll each ball into a circle, approximately 1/8 inches thick and cut out cookies in the shape that you want. Bake cookies on an ungreased sheet for 7 minutes or until cookies are lightly browned. Makes about 2 dozen cookies.